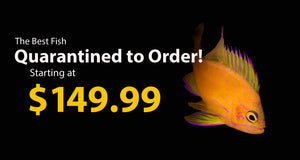 Welcome to Marine Collectors
With the marine aquaria hobby, it becomes an obsession. You're the type of person drawn to a challenge. The balance to maintain your own perfect part of the ocean is not for everyone. If you've stuck with it, eventually you'll graduate to different levels of fishkeeping. Marine Collectors is a business built around catering to that advanced hobbyist. When you have moved on from ordinary fish and want to take the plunge with a premium fish, Marine Collectors is your one stop shop.
Unlike any other online retailer, we work with you to find the perfect stocking for your piece of the ocean. Our focus is on rare and high end species. Your vendor to customer relationship will be very different from anywhere else. Everything is personal. We're not a company that dropships or does fulfillment via stocklist. Every fish that comes through Marine Collectors is brought in for a specific customer with specific needs. When you buy fish here, you're getting the very best. 
Every week, Sunday through Thursday, Los Angeles wholesaler isles are walked and handpicked for premium fish. For those extreme once in a lifetime rareties, we work with divers and collection facilities from around the world. We get you the impossible when no one else can. If you have reached the obsessive level of fish keeping and are ready to get quality fish, give us a try. You won't be disappointed.
​ - Elliot L. Owner/ Operator of Marine Collectors
Industry Leaders trust us, why not give us a try!
Marine Collector provides arguably the best quarantine and conditioning service in the US for tropical fishes, including sharks and rays! Their team focuses on eradication of ailments, while getting them conditioned to feeding on prepared foods with gusto. Both of those tasks can prove quite difficult, time consuming, and very expensive for aquarists. Working with Marine Collectors has allowed our team to focus on what we do best, system design and installations, then having the confidence that the animals our clients receive will start them on the best foot possible!

Austin Lefevre (Tenji Aquarium Designs)
Elliot has become more than just the guy I get my fish from. He's a fish health mentor and at times a fish veterinarian. I have never encountered an accessible skill set quite like his before.

Ryan Batcheller (Bulk Reef Supply)
Marine Collectors has proven to be a reputable source for healthy and reliable fish for our many installations. We've had great success with both common and rare species and know that we can rely on Elliot to deliver quality livestock every time!

Nic Tiemens (Infinity Aquariums)
Procuring high quality healthy live stock is a challenge. Elliot always provides high quality fish that are eating and have body weight on them. My only concern about ordering from Elliot is getting to my box ASAP so I can admire what's inside!

Mark Callahan (Mr. Saltwater Tank)
Marine Collectors has taken the guess work out of stocking aquariums with a wide selection of livestock. From sourcing rare species for a specific client or getting healthy fish for an exiting account, Elliot does't let us down!

Jeremy Kuklenski (Elite Aquarium Design)
Education: Parasites, Quarantine, and more!
ReefBuilders: Fish of a Life time!
AUSTIN LEFEVRE APR 19, 2023
Over the years many of us have fawned over the amazing Twilight Zone fishes shared on Reef Builders, but few of us have seen most of these in person, let alone had the opportunity to purchase them. These animals are…
JEREMY GAY OCT 9, 2022
A one-of-a-kind Moorish Idol has been made available on the website Marine Collectors. Named a Koi Moorish Idol, this eye-catching example of Zanclus cornutus displays four colors instead of the usual three, with far more orange and far less black…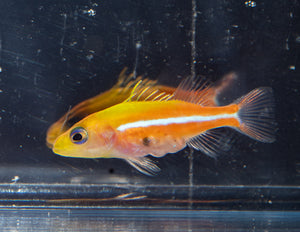 JAKE ADAMS JUL 19, 2022
The Dr. Seuss soapfish, Belonoperca pylei, is one of the most mysterious rare reef fish in the saltwater aquarium hobby and it has one of the coolest names to boot. We've shared many stories of this fascinating denizen of the twilight…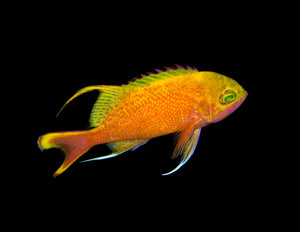 JAKE ADAMS OCT 8, 2021
Anthias are a diverse group of quintessential pink and yellow marine fish which occur from the tropical shallows to the cold water depths of our seas. Many species of anthias are quite common and cheap, making great and hardy aquarium…Pair large text with an image to give focus to your chosen product, collection, or blog post. Add details on availability, style, or even provide a review.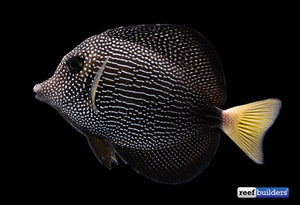 JAKE ADAMS NOV 15, 2019 
Yellow tangs have piebalds, scopas tangs have koi variants, and now it seems that the highly desirable gem tang has its own variant called the Barcode gem tang. The barcode Gem tang is a special variant of the gem tang…
JAKE ADAMS JUL 6, 2021
It's been more than 12 years since we stated that Tosanoides flavofasciatus was one of the most beautiful of all the rare and deepwater marine fish and in all that time, we've still never personally laid eyes on this illustrious species.…